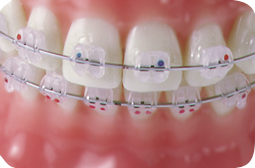 Clarity Clear ceramic braces work just like metal braces with one important difference: these translucent brackets are virtually unnoticeable, so you can smile with confidence throughout your treatment.
Clarity Clear ceramic braces are great for both teens and adults who need traditional orthodontic treatment but wish for a more subtle look.
Clarity Clear Braces blend beautifully with the natural color of your teeth, so they're barely noticeable when you smile.
Clarity Clear Braces are a perfect blend of strength and beauty and they resist staining and discoloration – so drink that coffee or tea!
Dr. Emma can help you determine if Clarity Clear Ceramic Braces are right for you. Call (516) 741-7970 today for your FREE initial evaluation and take that first step toward a beautiful new confident smile.