With offices in Garden City, New York, Dr. Denise Emma is committed to providing orthodontic excellence throughout Long Island.
While many dental professionals provide orthodontic services, Doctor Emma has completed advanced specialty training and has received designation as an orthodontic specialist.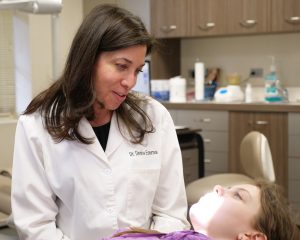 Dr. Emma has been nationally awarded Elite Preferred Provider Specialty Status for extensive experience using Invisalign since its first introduction in 1999. Doctor Emma is one of a small number of specialists on Long Island to receive this honor, which makes her among the top 1% of Invisalign certified specialists in North America.
Dr. Emma is committed to excellence in practice and attends continuing education courses and dental seminars on a continuing basis to stay up to date on the latest techniques, technologies and innovations in the field.
Doctor Emma utilizes cutting edge of technology to more effectively communicate with the top cosmetic dentists, periodontists, oral surgeons, and prosthodontists. By collaborating with these doctors, they create the most aesthetic and functional facial design for their patients.
Doctor Emma is an expert in surgical orthodontics. She cares for a significant number of surgical patients every year and works with the top oral surgeons to make the combined surgical orthodontic care as seamless as possible.
Doctor Emma is actively involved in organized dentistry and members of the following organizations:
Whether you're on the North Shore or the South Shore, chances are you'll find one of her offices nearby. Her patients come from all over Long Island including Garden City, Rockville Centre, Baldwin, Malverne, Franklin Square, Merrick, Oceanside, Mineola, Carle Place, Hempstead, West Hempstead, New Hyde Park, Freeport, and Lynbrook.